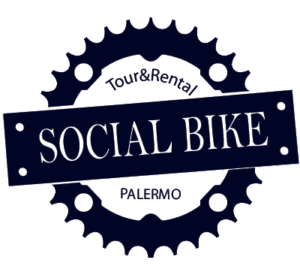 GUIDED BIKE TOUR
Ride with a local guide through more than 28 centuries of History in Palermo Old Town, among Baroque churches, Norman palaces, Renaissance fountains,
GUIDED BIKE TOUR
Baroque churches and Norman palaces, Italian gardens and arabs markets: discover by bike the true essence of a great and ancient city, in the center of the Mediterranean, historical crossroads of millennial cultures.
CYCLING HAS NEVER BEEN SO… CULTURAL!
WHY TAKE OUR TOURS ?
We deeply want to share with you our passion for our city in funny and eco-friendly way!

Our meeting point is at the center of the Old town, in the elegant and quiet pedestrian area, a perfect location to start exploring the city.

Our routes cover more than any other tour of Palermo: on bikes we see much more.

The entrance to an outstanding aristocratic palace or to an amazing church/oratory is always included in the contribution.

All tours end up with the taste of traditional "street food".

We'll make your day trip in Palermo easy, affordable, and fun.
FAQ
1. Is it safe to cycle in Palermo?
Excursions have been planned by our experts to cycle along cycle-pedestrian tracks with no cars or tourist buses (apart from few exceptions where you have to pay attention and follow the team leader's instructions). Every participant will be given a professional helmet (even though it is not compulsory in Italy) for a safer cycling experience and for respect of all those cyclists who are used to wearing it.
2. How many people are there in each group?
Our groups are not too big, from a minimum of 2 participants up to 8. In this way we can pay more attention to the participants' necessities and we can guarantee their safety. Don't hesitate to contact us if you have any particular request.
3. Do we go inside the museums and monuments?
Our tours are designed to enjoy the city from a insider's perspective and come away with a greater understanding of its history and layout. You will admire amazing monuments from outside and our folding bikes will allow you to enter and visit beautiful historical palaces or museums that are normally prohibited to cyclists with their conventional bikes.
4. Do I have to book in advance?
Yes, you have to book at least 24 hours in advance.
5. What is your weather policy?

Palermo's climate is absolutely great, it hardly ever rains, and should it happen… it would be a good excuse to stop at a good cafè. We have rain ponchos available for purchase in our office for anyone that needs them. We will gladly buy the ponchos back if they are not used during your tour. We encourage all guests to consult the weather forecast and to dress accordingly. Anyway the coordinator is the only the person who can cancel the tour. His decision depends on exceptional circumstances and not on his will.
6. What is your cancellation policy?
We ask you a deposit by Paypal to confirm your reservation. We are happy to offer full refunds for our Tour if the reservation is cancelled more than 48 hours (2 days) before the scheduled tour.  We do not offer refunds for any reason once we are within 48 hours of the scheduled tour.
7. Is this tour appropriate for children ?
Yes!  We have various sized city bikes. Please let us know the size of your children when making your reservation and we will provide you with the right bike. Unfortunately, we do not have adult tricycles, adult tandems, or bikes with training wheels for adults or children that may be less confident in their riding ability. Please just keep in mind that children under 16 years old must be accompanied by an adult on the tour.
INFORMATION

Palermo: 21, Discesa dei Giudici- 90133
OPENING TIME:
Monday – Saturday  : 9.30 AM- 6:30 PM


info@socialbikepalermo.com